YOU'RE FIRED / Clifford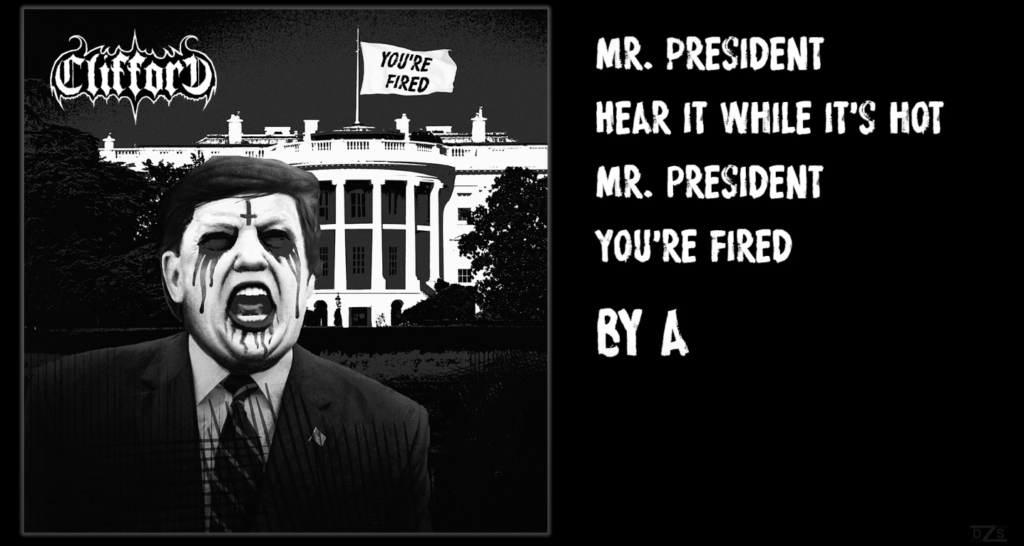 Check out the Official Lyric Video here: https://youtu.be/z14F8glrvcM
From the label that gave you the metal version of Greta Thunberg's United Nations speech "How Dare You" and CLIFFORD's metal tribute to another great Swedish personality, some even say he should be named 'Swede of the year'; the state epidemiologist of Sweden Mr. Anders Tegnell. Heavy metal's premiere contemporary analysis duo CLIFFORD returns with this blistering track, recalling and dissecting a fraction of the madness that emanated from this man over the past four years.

"You're Fired! (By a Lot)" tells the story of one man's fall, all the way down from his very own Trump Tower golden escalator, to the parking lot of a landscape decorator, a cremation center and an adult bookshop (with viewing booths, supposedly for the avid reader)." / CLIFFORD

With this varied palette, Clifford steps forward and delivers their version of contemporary analysis – with pure hard rock. The official lyric video for "You're Fired! (By a Lot)" is out now, and will be followed by a digital single in the days to come for streaming/download.