SIR REG / SWEDEN ROCK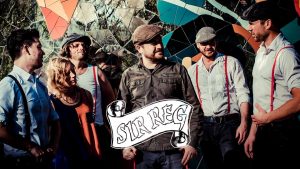 HORRAY! On Thursday June 6th we want you and your friends join us to drink beer and sing along to SIR REG and enjoy pure irish punkrock in front of 4Sound Stage on Sweden Rock Festival, 4 pm sharp!

Here you can rehearsal to sing along: https://spoti.fi/2WkSce0
Youtube: Music video for Fool (Fight of Our Lives): https://bit.ly/2OzWZI0

More about the band:
SIR REG is an energetic six piece from Köping fronted by Irishman Brendan Sheehy on vocals, who left his home-town of Dublin to come to Sweden. Their debut from 2010 was critically acclaimed as well as the following three albums. The band have a significant sound with acoustic elements such as violin and mandolin is heavily influenced by punk. Long story short: if you are a fan of Dropkick Murphys and Flogging Molly, you will love SIR REG.