Adna ready for Eurosonic 2017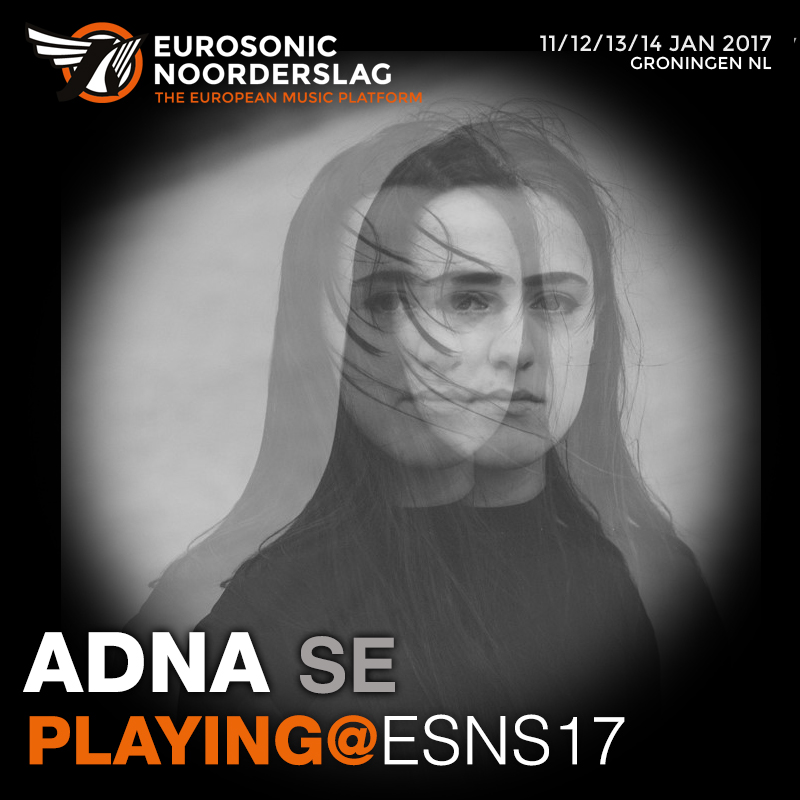 We are very proud and happy to announce that Adna will be playing at Eurosonic 2017.
Eurosonic Noorderslag is the key exchange and networking platform for European music, with a proven track record for helping new acts break into the international music scene. Selling out each year Eurosonic Noorderslag attracts over 4000 delegates, including 400 international festivals.
By night, during two showcase festivals (Eurosonic and Noorderslag), musical talent has the chance to present itself to an international audience of music lovers and professionals. By day an international music conference takes place, the key exchange and networking platform for European music.
After the release of her last album "Run, Lucifer" Adna toured all over Europe and has had a lot of inspiration and time to reflect on her live performance. She currently lives in Berlin and has spent the first half of this year writing and recording her third full length album "Closure" planned for release in March 2017 which will be followed by a new tour.
The brand new single; "Overthinking" is the first single taken off of that album and we hear Adna dig deeper into her own past and her own darkness than ever before. It's already been added on rotation on National Swedish radio P3 and is blowing up on Spotify.
"I believe we all have a dark place inside of us, some more aware of it than others, and we all have our own way of dealing with it. I tried embracing mine, which led to finding a home within it, but also of course – the making of this record. Overthinking" was written about a year ago in some kind of apathy state of mind, inspired by that time and all about the contrasts. " – Adna –
Adna has previously released two full length albums and has had over 20 million Spotify streams in the last two years. The melancholic, lo-fi, singer-songwriter has had her work compared to the likes of Bon Iver & Daughter as well as high praise from KCRW, Pigeons and Planes, NME, The Line Of Best Fit. She's also had several sync placements in popular shows (most recently Bones in 2016).
Eurosonic
#ESNS17
Facebook: www.fb.com/eurosonicnoorderslagfestival/
Instagram: @eurosonicnoorderslag
Twitter: @ESNSmusic / @ESNSnl
Website: www.eurosonic-noorderslag.nl
Adna
Facebook: https://www.facebook.com/AdnaArtistpage/
Spotify: https://open.spotify.com/artist/1pduOlnYE5rd4VChXbeU8g
Instagram: http://instagram.com/adnakadic#
Official homepage: http://www.adna.se/