Casablanca changes record company, signs album and publishing contract with Despotz Records.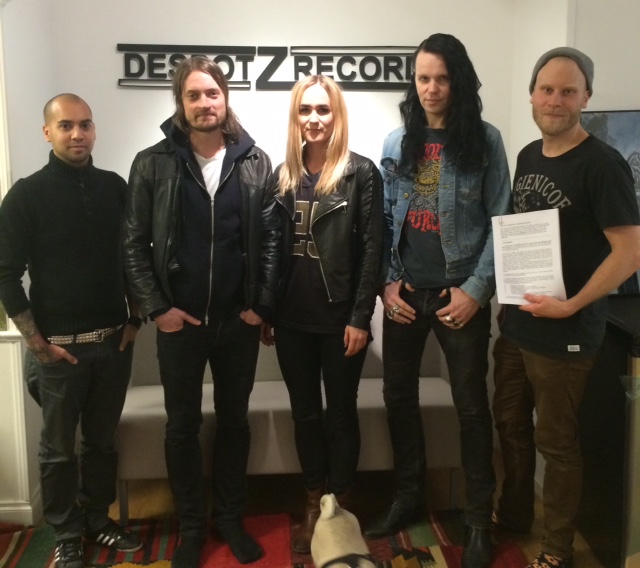 "We look forward to the release of our third album at Despotz Record! We think they are absolutely the right company for our concept album Miskatonic Graffiti, so we welcome them on a trip along with new our guitarist Erik Almström!" Casablanca
Casablanca consists of Anders Ljung, Josephine Forsman, Mats Rubarth,
Erik Almström, Erik Stenemo and Ryan Roxie. The last two names are members
of the band but not participating on the upcoming album. Casablanca has
so far released two albums, the debut Apocalyptic Youth and the sequel
Riding a Black Swan; Now comes the third full length album Miskatonic
Graffiti!
Miskatonic Graffiti is a concept album in three parts; we follow the stories and
events that take place in the small fictional town of The Mountains,
as well as a tour of the inner core of Rock and the
futility of the existance of mankind. All played beneath the cold
nonchalant cosmos. As if Ziggy Stardust met H. P. Lovecraft in Twin Peaks!
"We are incredibly excited to present  this new signing to the
Despotz Family, we welcome Casablanca and look forward to a very fruitful cooperation. In the current climate in the industry, this concept album feels just right.  This album offers a combination of sharp singles embedded with long intro and outro songs, and a story and sound that captivates the listener like a favorite TV series that you just don't want to end. Combining this with a huge passion and a great team, we see no limits on where we can take this." Carl-Marcus Gidlöf, Despotz Records
The album is produced and recorded during the summer of 2014 in Solna,
Stockholm, Sweden by Anders Ljung, Mats Rubarth, Erik Almström and
Josephine Forsman, together with technician Jon Bordon.